The Best Online Currency Exchange Services in New Zealand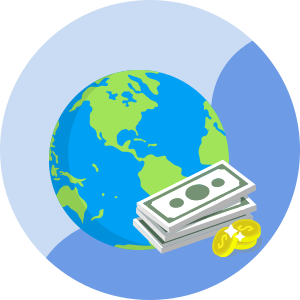 Planning your next overseas trip? No matter whether you are preparing for overseas travel for holiday or business, buying foreign currency online is one way to reduce stress and potentially save time. The problem is, there are so many online currency exchange services that it makes it hard to figure out which one is best to get your foreign currency.
Look no further. Here is a list of the best online travel money providers in New Zealand, including a quick snapshot for each company and the pros and cons.
Best value travel debit card
A Wise debit card can be an easy way to exchange and spend the currency you need when travelling abroad. You top up card balance in New Zealand dollars, and convert in any other currency you may need when travelling.
You will always get the mid-market rate to convert between currencies, to which there will be added a low, transparent fee. For NZD - AUD conversion, you'll pay a fee of 0.35%. This multi-currency card will give you the best exchange rates for spending in 50+ currencies.
You can withdraw money from an ATM whenever you need cash and spend like a local at any point of sales or online.
It's free to open a Wise account and you can order the travel debit card for a one-off $14 charge.
Easiest click and collect
Travel Money NZ is exceptionally convenient for collecting foreign currency due to their large national network of stores that are open late and on weekends.
They also feature an easy-to-use website and offer a huge range of currencies to make it simple to organise foreign currency online. Their exchange rates are also better online than in-store.
Don't pay with your credit card. While they don't charge a commission or fee, you'll still have to pay extra for a credit card payment.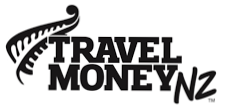 Lots of stores to visit – open late and on weekends
Can order 21 days in advance
You can order online 24/7
No commissions
Excellent range of currencies in stock
Card handling fees if you want to buy currency online using a card. Although, this can be avoided by paying through Bill Payment or  a bank transfer.
3-5 business day wait for online orders
Specified currency denominations not available to order however they normally provide a mixed pack  of denominations.
Safe home delivery
Using No 1 Currency for online cash delivery is convenient. They're a well known company and delivery is safe and secure.
However, you need to be prepared. It usually takes 3-7 business days until the currency is ready for delivery. The good news is, you can order in advance on work days.
There are also some additional things to keep in mind:
Fee of $7 per delivery
You can't sell foreign currency, you can only buy it
Orders are delivered through NZ post and signature is required
All deliveries insured
A large number of currencies to transfer money
You can order online 24/7
Can only buy foreign currency online for delivery
Card handling fees if you want to buy currency using a credit card
3-7 business day wait delivering online orders
Airport pick-up
Travelex, again is the best online travel money service for airport pick-ups. It's best to order your money online before you head to the airport.
The airport branch only holds a selected amount of stock and it can take 3-7 business days to have your currency ready in-store.
Give the Travelex airport branch a call ahead of your trip. You don't want to be boarding for your flight and realise too late the currency you've requested isn't available!
If you didn't have time to order it online, avoid exchanging money at the airport at all costs. Exchange rates at the Travelex airport branch aren't as good as online. The fees and exchange rates at New Zealand airports are close to (if not) the worst in the country.
Lots of pick up locations including most airports
A large number of currencies to transfer money
You can order online 24/7
Card handling fees if you want to buy currency using a credit card
1-5 business day wait for online orders for collection
Exchange rate margins not transparent
Best bank
ANZ is the best bank for exchanging foreign currency. They offer the most competitive rates from all the banks we looked at. However, they are not always the cheapest online option for purchasing foreign currency.
The exchange rates that ANZ offer aren't the same market rates you can see on online currency converters or Google. To find a better rate, we suggest you compare bank and other online travel money provider's exchange rates before you travel.
ANZ buy and sell most major currencies (over 20 in total)
Hold good stocks of AUD, USD, EUR and GBP
Buys back a wide range of currencies on your return
Order in advance and available to collect at any branch
For exchanges between $100 and $1000 it will cost $12
For exchanges over $1000 it will cost 1.1% of the total amount
3-5 business day wait for online orders
Want to find the best time to buy?
Simply use our free email alerts to track the rate daily. Or set the rate you want and we'll email you when it's time to buy.
What is the cheapest way to get foreign currency?
How to exchange currency online
Quite often, ordering online is the cheapest and easiest way to buy currency. It usually takes between 2 and 5 business days before the currency is ready, so you can't do it last minute.
Where can you get money exchanged?
Wondering where to exchange currency in a store? Use these city (CBD) and suburb guides to help you get the best exchange rates deals.
Where is the best place to exchange money overseas?
You'll get the best exchange rates if you buy foreign currency at your destination rather than at home, but it might not be as convenient. If you're looking for information on the best ways to take travel money for a specific destination check out the following country guides:
What is the best travel card?
What currencies can I buy online?
Argentine Peso (ARS), Australian Dollars (AUD), Brazilian Real (BRL), British Pounds (GBP), Canadian Dollar (CAD), Chilean Peso (CLP) , Chinese Yuan Renminbi (CNY), Croatian Kuna (HRK), Czech Republic Koruna (CZK), Danish Krone (DKK), Euro (EUR), Fijian Dollar (FJD), Hong Kong Dollar (HKD), Hungarian Forint (HUF), Indonesian Rupiah (IDR), Japanese Yen (JPY), Malaysian Ringgit (MYR), New Caledonia CFP Franc (XPF), Norwegian Krone (NOK), Philippine Peso (PHP), Polish Zloty (PLN), Russian Ruble (RUB), Saudi Arabia Riyal (SAR), Singapore Dollar (SGD), South African Rand (ZAR), South Korean Won (KRW), Swedish Krona (SEK), Swiss Franc (CHF), Thai Baht (THB), Turkish Lira (TRY), UAE Dirham (AED), US Dollars (USD), Vanuatu Vatu (VUV), Vietnamese Dong (VND)
Your currency knowledge centre
Travel Money NZ have excellent service both in-store and over the phone. They have very good rates online, but store rates vary. There are no fees and ID is required for amounts over $1000.
Travelex have friendly, professional service with some of the best exchange rates for cash. There are bank limits for eftpos and photo ID is required.
International Money Transfer Comparison and Reviews
Find the best international money transfer exchange rates to send money overseas from Australia. Compare the rates and fees from leading banks and money transfer services.