Wise Borderless Account Review
We'll talk about the Borderless Account, find out what it is, how it could benefit you, how to set one up, and what you can do with it.


At its core, the Borderless Account is a foreign currency account. It allows you to hold and transfer around 27 different currencies.
There are 3 things about this account that makes it different to other multi-currency accounts:
It allows you to open up a local bank account in Europe, the UK, USA, Australia and New Zealand. This is a brilliant feature. It begs the question, 'why didn't anyone do this before?'

An incredibly low fee structure the account has no set up fees, no monthly fees, and no receiving fees.

UPDATE: The Wise Debit Card is now available in the UK and Eurozone.
Learn more about the Borderless Account
An Introduction to the Borderless Account
The Borderless Account is a pretty radical product for a currency provider. Not content with just offering money transfers, the Borderless Account puts Wise (formerly known as TransferWise) squarely in competition against banks themselves. Essentially, it's an online bank account giving you a "local" presence in the US, UK, Eurozone, New Zealand, and Australia. Although, we hope to see it rolled out to other countries around the world soon.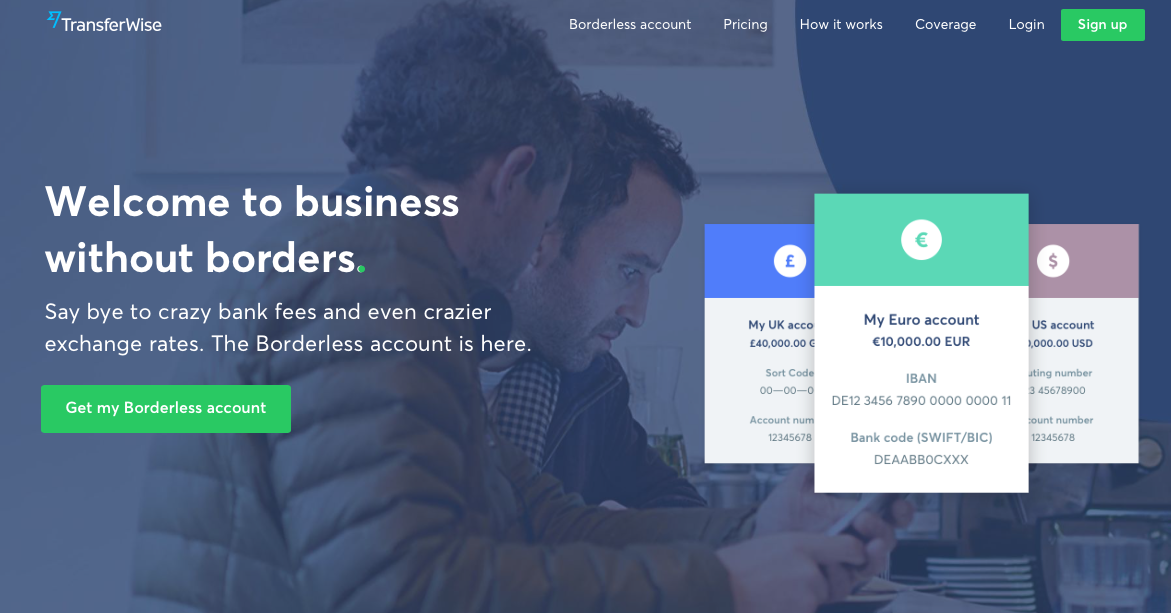 Pros and cons of the
Borderless Account by Wise
Gives you a "local" bank account in multiple countries and currencies.
Wise is a regulated, reputable, and reliable money transfer and currency exchange provider.
Makes opening an account with multiple currencies very quick and easy.
Debit card facility is now available in the UK and Europe.
Wise offers competitive exchange rates, on par with some of the lowest in the industry.
You're only charged a fee when you move money from one currency to another.
You're charged the same as for regular Wise currency exchange (typically between 0.5% and 0.7% on top of the baseline exchange rate).
Make and send payments to multiple countries and currencies from one place.
There are no setup fees or monthly charges.
There is no charge to send or receive payments.
The same high levels of security, encryption, and protection as with Wise's other services.
Coverage for currencies and countries is limited at present.
No debit card facility yet in the US, Australia, and New Zealand.
All your money is with one currency provider.
There is a small charge to make external payments.
Adding money to the account with a credit card may incur an additional fee.
There are some limits on the amount of money you can receive into your Borderless Account.
The account is designed mainly for small businesses, sole traders, entrepreneurs, and freelancers who want to receive money and make payments in multiple currencies around the world. The Borderless Account is a central place where you can do that quickly and easily. Furthermore, you can transfer money in the account from one currency to another at the click of a button. Naturally, the currency transfers are provided at the low exchange rates Wise typically offers.
| | | |
| --- | --- | --- |
| British Pound | Euro | US Dollar |
| Australian Dollar | Georgian Lari | New Zealand Dollar |
| Bulgarian Lev | Hong Kong Dollar | Polish Zloty |
| Canadian Dollar | Croation Kuna | Romanian Leu |
| Swiss Franc | Hungarian Forint | Swedish Krona |
| Czech Koruna | Japanese Yen | Singapore Dollar |
| Danish Krone | Mexican Peso | Turkish Lira |
| Peruvian Sol | Norwegian Krone | Ukraunian Hryvnia |
| United Arab Emirates Dirham | Israeli Shekel | South African Rand |
| Kenyan Shilling | | |
At the moment, the account is online only for the US and Australia. Although, in April 2018 the Wise debit card was introduced in the UK and Europe. With its initial aim squarely at business owners, Wise is dealing with a big issue for startups and small businesses — the difficulty of opening up accounts that can receive multiple currencies. The Wise Borderless Account goes a long way towards solving that problem.
Update
Wise now support payout of global USD to majority of countries.
This is done via SWIFT and so there are slightly higher costs associated with global USD payouts than their standard fee.
Fee structure for the sender: Wise fee + $2 (or equivalent in sender's home currency).
These payments are made via the SWIFT network and note that the recipient may also be charged a fee by their bank for receiving the global USD. Wise are not able to predict exactly how much this charge may be to the recipient as it is up to their bank.
How the Borderless Account Works
Setting up a Borderless Account
If you already have a Wise account, you can effortlessly create a Borderless Account. If you don't have a Wise account, you will need to sign up as normal, with the standard ID and proof of address requirements. With non-Australian accounts, you will need to add $20 to your account as part of your verification process. Accounts are also opened in your default currency. Following this, you can then add other currencies and countries as you need to. When you do that, Wise provides you with a unique sort code / routing number and account number for that bank account. You simply use this in place of a regular bank account number to send or receive payments. Very easy.
Using the Borderless Account
Think of it as simply having a local bank account in the countries and currencies you need, but that centralises all of your funds in Wise.
The most effective way to use the account is to provide the details to your customers and suppliers so they can demand, make, and send payments as they would with any other bank account. If you receive funds in a local currency, you don't pay any exchange rate fees when you receive the funds, only when you choose to convert those to your native currency. Consequently, you can wait for favourable rates before making a money transfer.
Naturally, you can transfer money between your Borderless Account and your regular account quickly and easily.
In 2018 the Wise Debit Card launched for UK and European customers. This card allows you to spend your Borderless Account balance in the relevant countries while reducing the fees associated with spending money internationally. This makes it perfect for frequent travellers or for international businesses, this is a very unique product. Read more about the Wise Debit Card here.
In a Nutshell
It's a fast, simple, low-cost way to send and receive money, together with local banking details. As a result, this innovative tool will only improve as it is introduced to more countries and currencies, and as the debit card becomes more readily available.
Learn more about the Borderless Account