How to Send Money with Wise: A Beginners Guide
Step 1: Wise (formerly known as TransferWise)
Once you've clicked through to the Wise website you'll be taken to their home page. From here you can get a direct quote for the transfer you want to make, login to your account or sign up. The website is extremely user friendly and intuitive.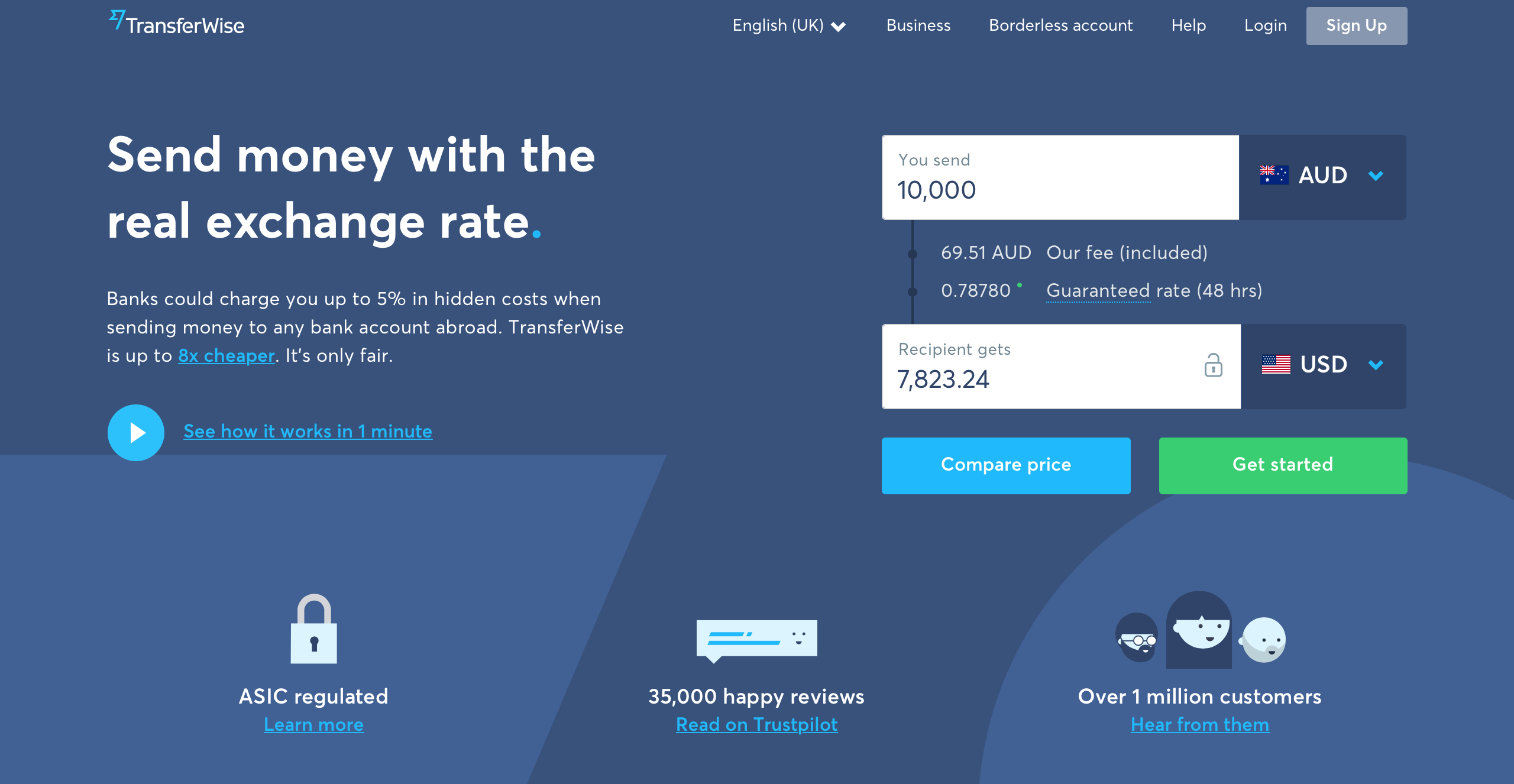 Step 2: Creating your account
The next page will allow you to start creating your account. You'll type in the email address you would like associated with the account, and create a secure password, which you will use to access the account in the future. You should create a password you don't use for anything else. Security is very important when it comes to transferring money internationally.
As we said, the Wise website is extremely intuitive and user-friendly. It's broken down into 5 simple steps for you to work through. The next steps correspond with you customising your transaction and your account. Firstly, you'll confirm the amount you're transferring and the currency you need to send. Then state what type of transaction you're making. That is, whether the transfer is for business or personal reasons.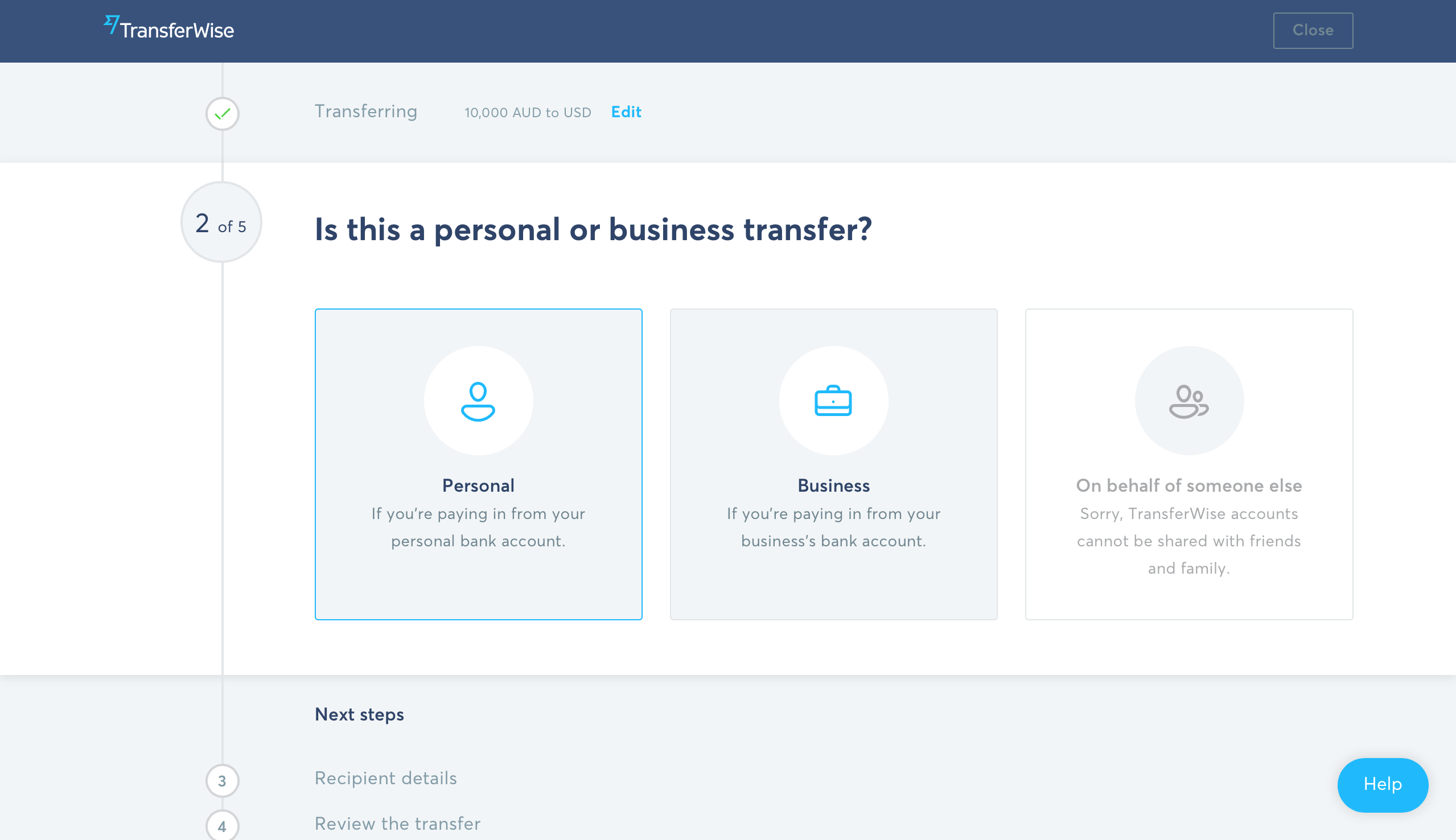 This is where you'll fill in the details about yourself. When it comes to international money transfers, you will need to provide substantial information about yourself to verify your identity. You'll need to provide your full name, date of birth, contact number and residential address. It's important that all of these details are correct as you may need to provide ID later and these details will need to match.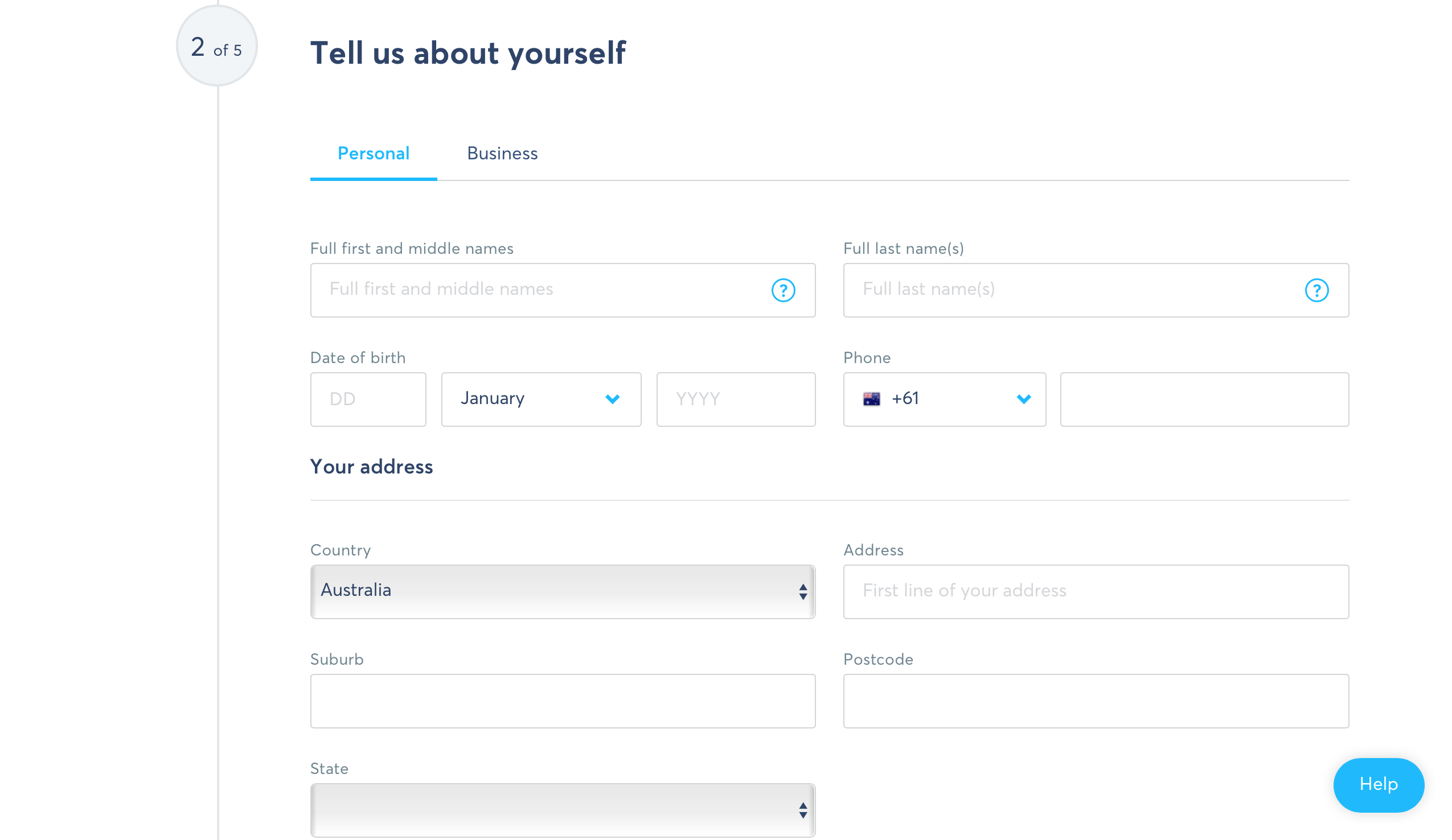 Who are you sending the money to? This next step is informing Wise who you're sending your money to, your recipient. You might be transferring it to your own international account or you could be sending it to someone else. Here you'll fill in the details of the recipient.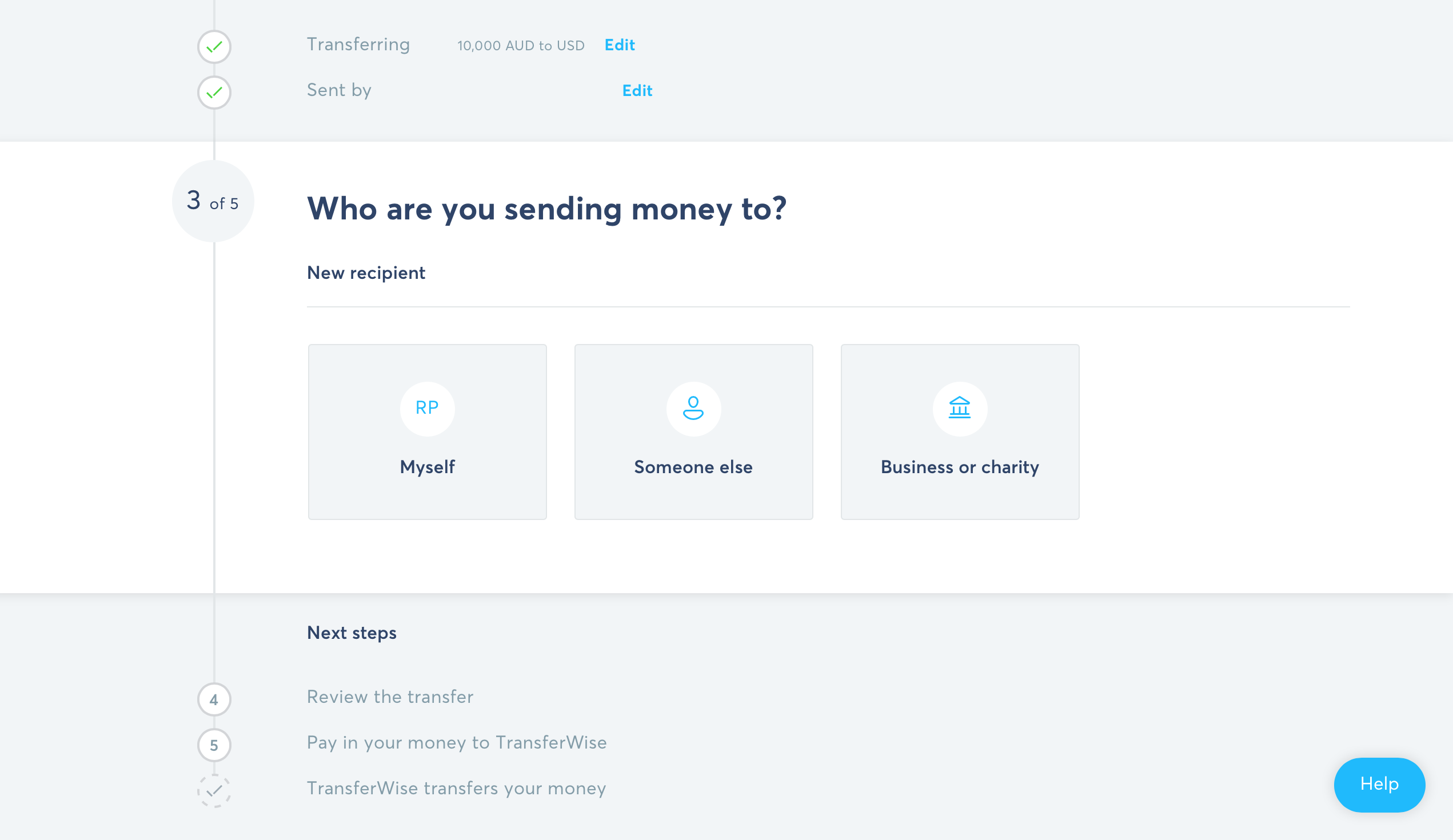 You'll then fill in the details of the account you're sending the money to. This can differ depending on where you're sending it. This example has us transferring to the US, so the routing number, account number and account type are required. Double check the details you're inputting are correct, it's very important that you're providing accurate information.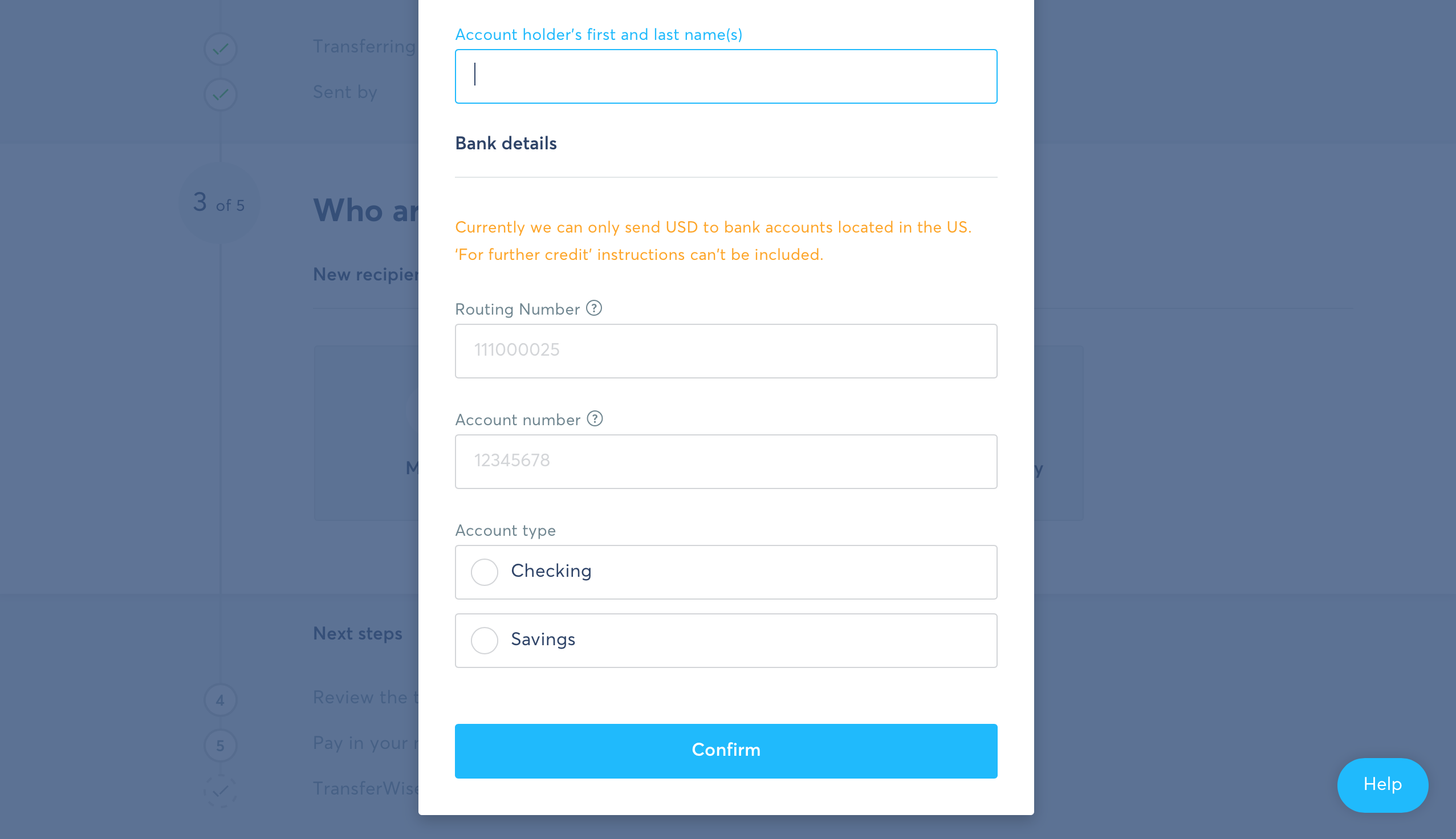 Once the details of your recipient are verified, you'll get a message stating they have been confirmed. From here you'll be able to continue your order and move onto the next steps.
Step 6: Reviewing your order
This page is essentially a summary of all the information you've provided Wise so far. It will include the estimated date the recipient will receive the funds, the rate you're being offered and all included fees.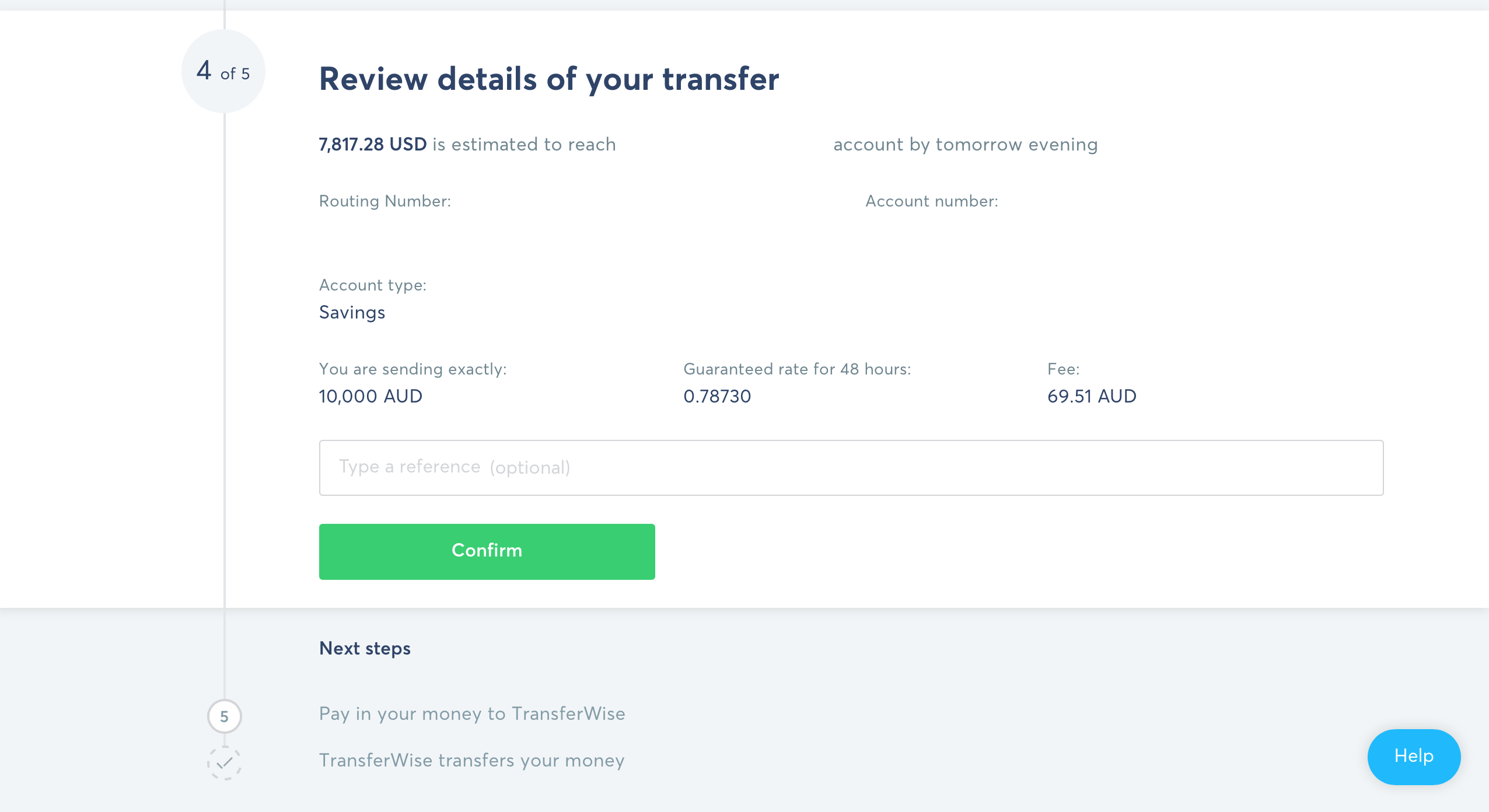 Step 7: Funding the transfer
This step is about informing Wise how you'll be paying them to make the transfer. As our example is for $10,000 you have two options. You have the option to use either an internet bank payment or bank transfer. If you're making a smaller payment of $3,500 or less you can also use a debit or credit card.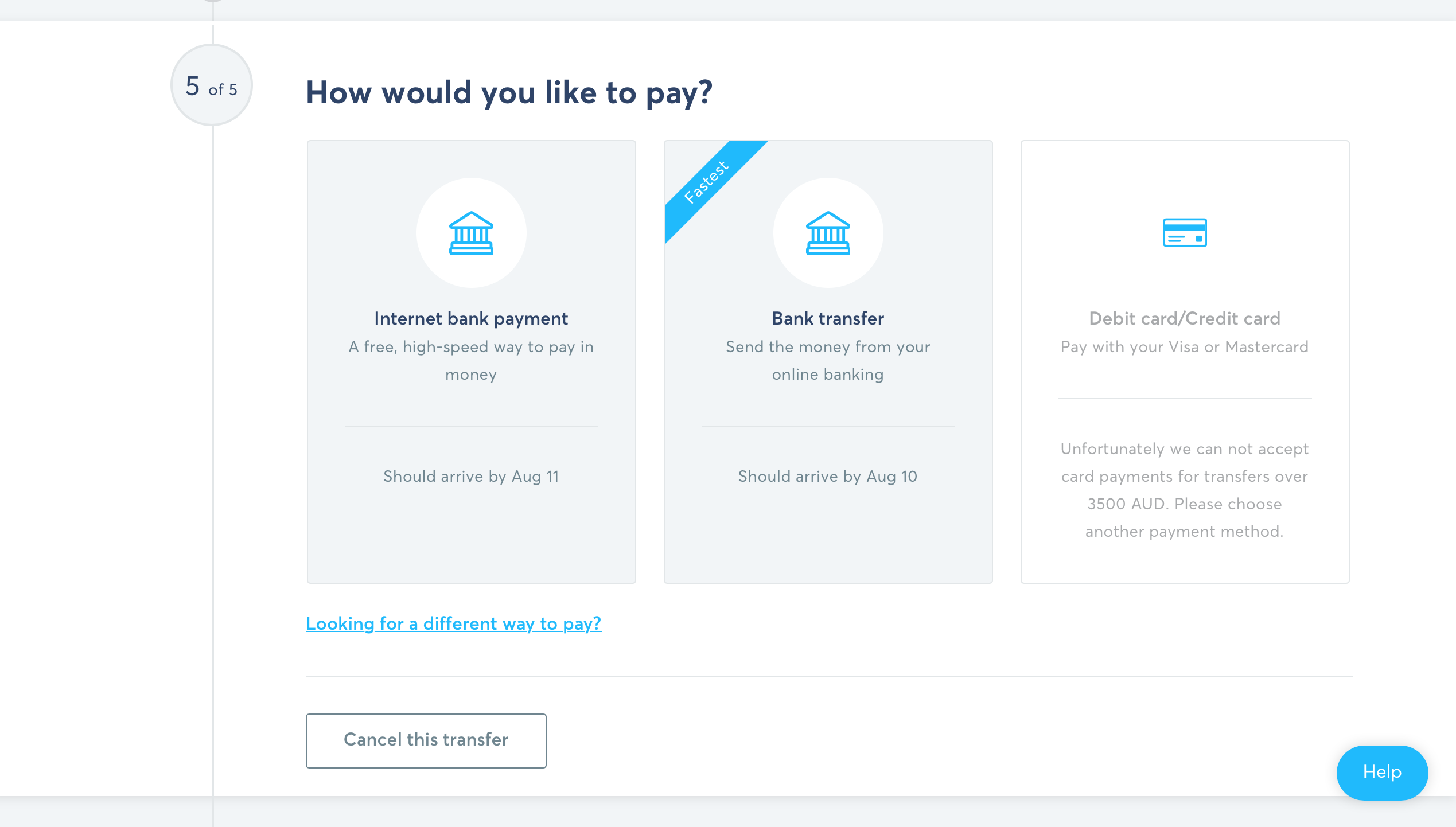 You can choose to pay into the account later. The transfer will pend until your payment is received. The exchange rate that Wise provide will hold for 48 hours while you process your payment.
Step 8: Confirmation
The final step will be a confirmation of your order, it will include the rate you received, the amount you're sending and the total your recipient will receive once the transfer has been completed.
More information about transferring money overseas with Wise
How much it costs
Wise fees depend on two areas:
The amount you're transferring — the Wise fee is worked out as a percentage of the amount they are sending which varies from currency to currency.
How you pay — some payment methods, like debit and credit cards, come with an extra fee that's set by the card provider or bank, not by Wise.
Unlike may other providers and banks, Wise does not get any commission at all from the exchange rate they provide. They offer the same mid-market rates that banks use to exchange currency and there is no markup on the exchange rates. This typically means that the overall cost of a transfer is lower, and that more funds are received.
The person you're paying may also be charged receiving bank fees. International money transfers sent to or from an overseas bank may be subject to commissions, fees, and other charges applied by that bank. These are typically deducted by the overseas bank from the funds paid to you.
*All details shown above are correct as of October 2017.
How long it takes
This is dependent on the country you're sending money from, and the currency the sender is receiving. Funds are normally deposited into their bank account within 1-3 working days.
Advantages of sending money internationally with Wise
Very fast and convenient.
It's a simple and straightforward process.
You can also request money directly from senders
You can make transfers online.
Much less expensive than using a bank or PayPal.
Send and receive money from over 40 countries and 20 currencies around the world.
Sender can fund transfers via bank transfer, debit card, or credit card.
In some cases they can fund transfers by Apple Pay or Android Pay.
Disadvantages of transferring money abroad with Wise
They do not accept or make payments via cash or check.
There are sometimes small, additional fees for paying with a debit or credit card.
Percentage fee can add up when transferring large amounts.
Additional information for Transferring money with Wise
There is a lot of numbers and pieces of information you hear about when it comes to international money transfers. Below there are some extra details you might need and the things you don't.
Wise IBAN number
IBAN is an account format used by European banks. Australian banks do not use this format and an IBAN is not required to send money to an Australian bank account. If you're sending money to Europe using Wise, you may need an IBAN.
Wise routing number
You may need a National Clearing Code, Routing Number, BSB Number or Sort Code, you should use the first six digits (bank and branch codes) of your account number for which you wish to receive the payment into. For example, if the account number is 01-0123-0123456-00 use 010123.
Available currencies with Wise
You can transfer international payments to the following countries and regions:
| | | | |
| --- | --- | --- | --- |
| Australia | Bangladesh | Brazil | Bulgaria |
| Canada | Chile | China | Colombia |
| Croatia | Czech Republic | Denmark | Europe |
| Georgia | Hong Kong | Hungary | India |
| Indonesia | Israel | Japan | Kenya |
| Malaysia | Mexico | Moocco | New Zealand |
| Nigeria | Norway | Pakistan | Peru |
| Phillipines | Poland | Romania | Russia |
| Singapore | South Africa | South Korea | Sri Lanka |
| Sweden | Switzerland | Thailand | Turkey |
| Ukraine | Liechtenstein | USA | |
| Vietnam | United Arab Emirates | United Kingdom | |
Related link: International Currencies Supported by Wise.
Here's the current list of currencies that Wise supports.
AUD – Australian Dollar
BGN – Bulgarian Lev
BRL – Brazilian Real
CAD – Canadian Dollar – Within Canada.
CHF – Swiss Franc
CZK – Czech Koruna
DKK – Danish Krone
EUR – Euro
GBP – Pounds Sterling
HKD – Hong Kong Dollar
HRK – Croatian Kuna
HUF – Hungarian Forint
JPY – Japanese Yen
NOK – Norwegian Krone
NZD – New Zealand Dollar
PLN – Polish Złoty
RON – Romanian Leu
SEK – Swedish Krona
SGD – Singapore Dollar
USD – US Dollar
View currency exchange rates for Wise
Rates for transferring funds internationally through Wise are available through their currency converter.
The rate you see on Google or Xe is also the rate Wise will offer you.
Further Wise information from The Currency Shop
Wise also offers a "Borderless Account" that provides more options for easily transferring money. You can find out more here.
Wise will keep you informed of the status of you money transfer transaction. They typically send emails at the following times:

Completion of the transfer order.
Transfer payment received by Wise.
Recipient getting money transferred into their bank account.

If the exchange rate fluctuates by more than 3% after you fund the transfer, Wise will pause it and contact you to see if you want to proceed.
Wise disclaimers
Wise does not check payment details.
If payment details are incorrect it may result in an unsuccessful transfer or the wrong account receiving funds. It is pivotal that you provide the correct details. This will save time for both parties and ensure you your payment is received without any issues.
How Wise can get you more money versus a bank
You might wonder why you wouldn't send money via your bank instead of a dedicated money transfer provider, and the answer is a simple one — cost. Currency exchange specialists are able to give better exchange rates and lower fees than banks, resulting in more for your recipient.
As an example, here's how much you can save transferring money via Wise rather than a couple of popular Australian banks.
Converting £5,000 GBP to AUD
With Wise, you get $8,625 AUD.
With Westpac, you get $8,290 AUD — $335 (3.9%) less.
With Commonwealth Bank, you get $8,270 AUD — $355 (4.1%) less.
Converting £25,000 GBP to AUD
With Wise, you get $43,253 AUD.
With Westpac, you get $41,496 AUD — $1,757 (4.1%) less.
With Commonwealth Bank, you get $41,400 AUD — $1,853 (4.2%) less.
*All details shown above are correct as of November 2017.
If you use dedicated money transfer service like WorldFirst, Wise, OFX, HiFX, or another dedicated currency exchange provider, they could save you hundreds of dollars on a transaction. To see how much they could save, get them to take a look at our free online comparison tool.
Summary
And that's it! That is everything you need to know about transferring your money overseas using Wise. Here at The Currency Shop, we want to give you the right information to help you and the sender save money and help you make an informed choice for all your currency exchange needs.
The next time you or someone else needs to send money internationally, check how much you can save using our money transfer comparison tool.