Check out their exchange rates, fees, safety and what customers have to say about them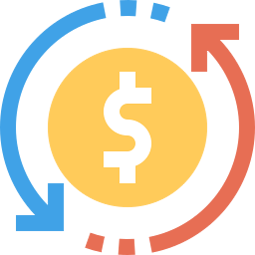 There is no doubt that sending money overseas can mean lots of hidden fees, wasted time and confusing rates. WorldFirst is one company trying to combat that.
They have an easy to use website, competitive rates and could be a good option for your next international money transfer. We've reviewed their services so that you can get a better idea of how they can service you, and whether they are right for your situation.
WorldFirst was launched in 2004 by its founders Jonathan Quin and Nick Robinson. Since its humble beginnings in a basement in South London, the company has now grown to have six global offices across the US, UK, Australia, Hong Kong and Singapore. The company prides itself on being fast, and giving people fair and safe ways to transfer money overseas.
Read about their pros and cons here, and select read more to hear a more in depth overview of the company.
Pros
Cons

Simple registration and set up process.
Easy online payment platform.
If you are in business, they have very competitive terms.
They do not charge fees, no matter the amount you're transferring.

Minimum transfer amount of $2000.
They only have an office in Sydney​​.
They do not accept payment by credit card.
They are more tailored to business customers than private ones.
Overview
There is a lot to like about the services that WorldFirst offer. They're especially a good option for  businesses who currently use their regular bank for international payments. If your business needs to make regular or large payments, you might find that using a service like WorldFirst could help save a lot of money.
For individuals, WorldFirst can be a good option as well. You need to make sure you're comfortable doing everything online, because there are some reports that their customer service isn't good. But their online platform is easy to use.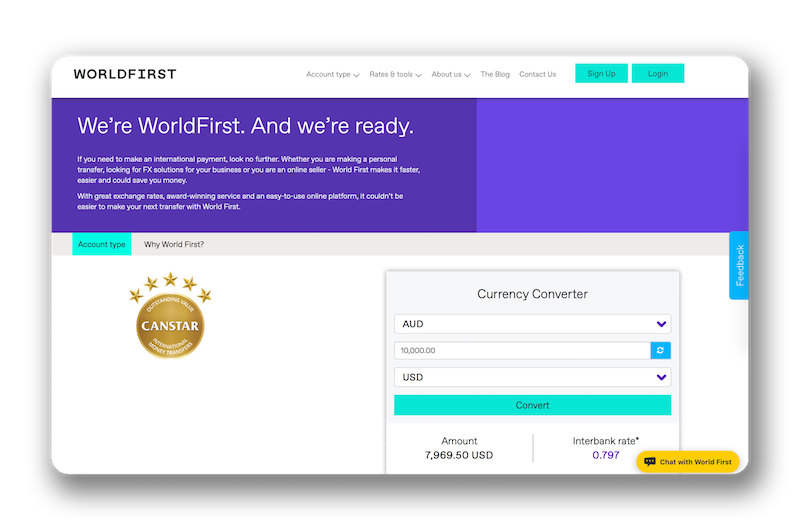 Pros and cons of using
WorldFirst
Their website is easy to use. You should find that that set up and registration process is quite simple. This means you can be up and running, ready to make transfers in no time!
They have competitive rates, and a lot of the time these will be better than what you'd find at your bank.
For businesses, they have very competitive terms and offer specific support for online sellers.
WorldFirst doesn't charge any fees. This makes calculating the cost of your transfer easier, as you only need to worry about the rate they are offering.
They offer a number of products, including forward contracts if you're not constrained by time.
They have a minimum transfer amount of $2,000. Which is much higher than most money transfer companies.
Limited customer support options.
Limited currencies available to transfer, although there may be more available than what they have listed on their site. You can always get in contact with them to discuss whether they can support your transfer.
The calculator on their homepage doesn't quote the actual rate you would get for your transfer. It shows the interbank rate before WorldFirst have applied their margin.
How Much WorldFirst Costs
It is quite simple to work out how much a transfer with WorldFirst is going to cost. Because they don't charge any transfer fees, you just have to look at the exchange rate that they are offering you for your transfer.
WorldFirst feature a handy calculator on their website to display the current interbank exchange rates. You just need to be careful if you use this. This calculator shows the interbank rate, which means it is the exchange rate before WorldFirst have added their margin to it. To secure the rate that you will actually receive, you will need to set up an account and request a quote.
Alternatively, you can click here and use our exchange rate comparison table. You can see WorldFirst's actual exchange rates and compare them to the Big 4 banks and other money transfer companies to see if they are the best option for you.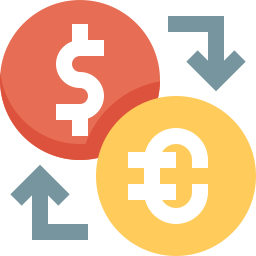 WorldFirst Customer Reviews
TrustScore: 7.7/10
Generally, customers speak favourably about their experiences with WorldFirst. The usability of the website works in the company's favour, and the set up and transfers are usually very efficient.
The most common complaint about WorldFirst is that their customer support team are unresponsive, or unhelpful. This is often not a problem if everything goes smoothly and you're happy doing everything online. But if you need to change something about your transfer, run into a roadblock or simply need some assistance you might find them frustrating.
There are three main steps to setting up an account with WorldFirst, which we have outlined below. You can also watch our video tutorial for a complete step by step guide. Before you start your transfer there are a few things you will need as well.
ID to set up your account.
Name and details of your recipient.
Details of your payment method.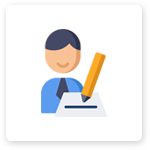 Step 1: Register
Register your details through the WorldFirst website. This will include the type of account you need, your details and the currencies you'll transfer. Once you provide some ID, WorldFirst will let you know when your account is ready.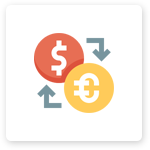 Step 2: Transfer
Once you have a quote for your transfer, you will go ahead and fill in the details of the person you're sending the money to. If you're sending it to your own international account, fill in your own details.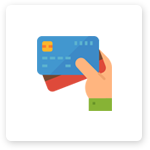 Step 3: Pay
WorldFirst only accept bank transfer but if you have a business account, you may be able to use a debit card to make the payment. Although be aware that this could slow down the process. WorldFirst does not accept credit card.
WorldFirst only have a limited number of currencies listed on their website. However, this list doesn't necessarily include all of the currencies they support. To find out if they can help you with the currencies you need to transfer between, it is best to contact them either by phone, email or through their website. The currencies they say they support are:
US dollar (USD), British pounds (GBP), Australian dollar (AUD), Canadian dollar (CAD), Japanese Yen (JPY), Indian Rupee (IDR), Mexican Peso (MXN)
Does WorldFirst have an App?
When you have an account with WorldFirst, you can make transfers through their website, or through their iOS and Android apps.
The app is quite easy to use, and it makes transferring money easy to do anywhere. A lot of the customer feedback for the app says that it is easy to navigate, but that it can be frustrating as you need to sign into your account each time you use it.
The WorldFirst app is available to both Apple and Android users.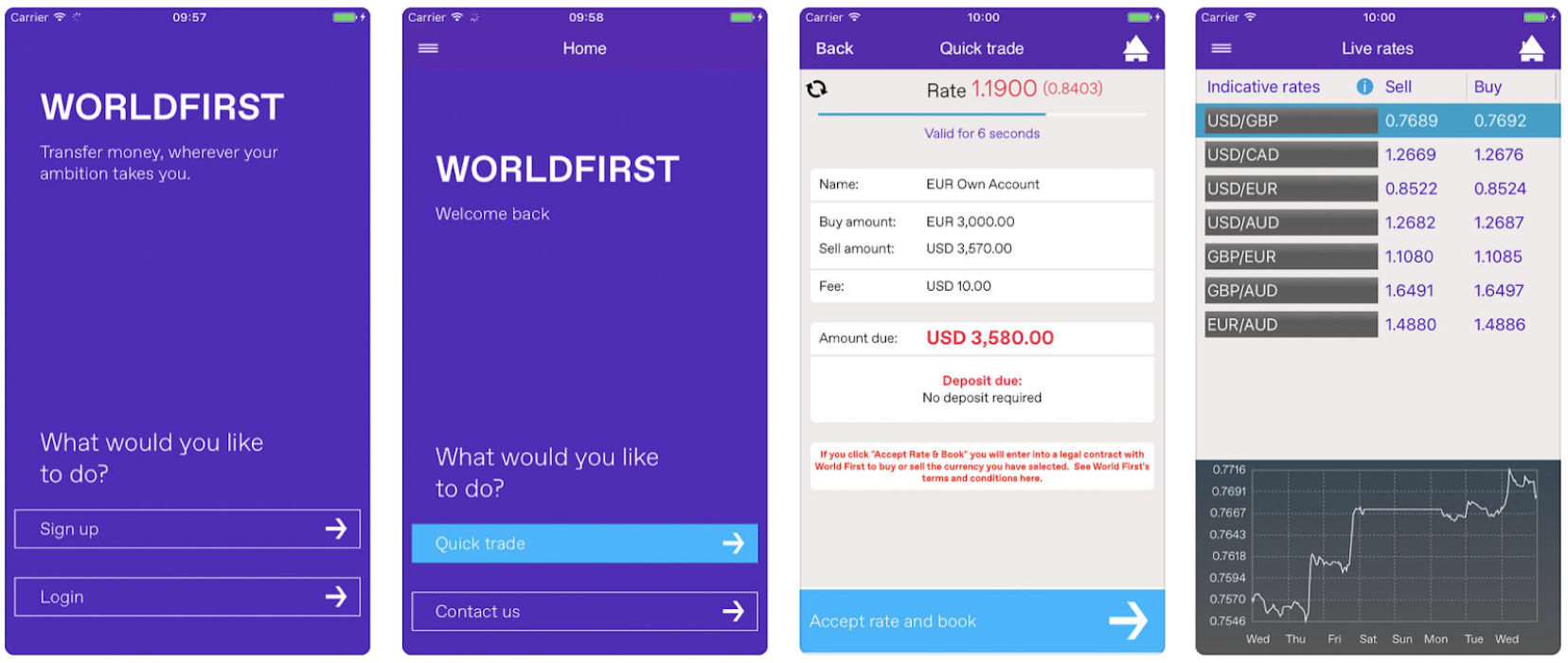 Is WorldFirst Safe?
Safety is a very important consideration when it comes to making an international money transfer and sending money overseas. You want to know that both your money, and details are protected through the entire process. WorldFirst have an Australian Financial Services License and are regulation by the Australian Securities and Investment Commission. These are very stringent guidelines that WorldFirst must follow in order to send your money.
They also take measures to protect the sensitive data you provide them like your personal details and identification. The comply strictly with Privacy Act to ensure your details are protected.
WorldFirst Exchange Rates
While WorldFirst don't charge any transfer fees, the do put a margin on the exchange rate. The rates they offer are still generally more competitive than the ones you would get offered in a bank. It's important to know when companies put a margin on their rate so that you can accurately calculate the cost of your transfer.
While WorldFirst do have an exchange rate calculator on their site, this doesn't accurately show the rates they offer. On their homepage the quote the interbank rate, which is not the rate you can make a transfer at. Remember to get an accurate quote from WorldFirst, you do need to sign up to an account with them.
To compare the rates that WorldFirst will offer to other banks and money transfer providers, you can use our comparison table here.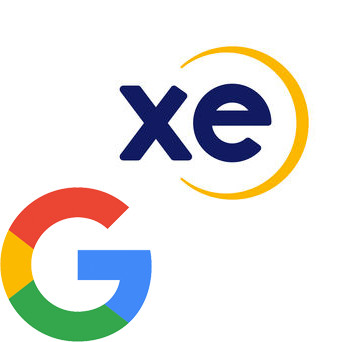 WorldFirst Business Products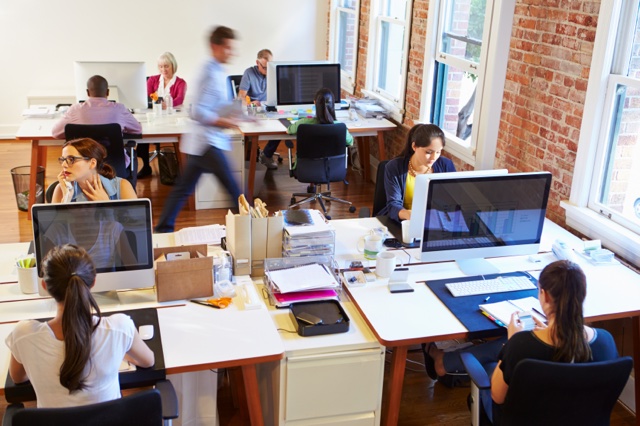 WorldFirst can support your business in a number of ways.
When you initially set up your account, you will be asked if you need it for business or personal reasons. And if you're using it as an 'online seller' there is an account specifically for that purpose. They also offer forward contracts if you want to wait for a certain rate before you make your business payments.
Read about the online sellers account here.