How to Find a Better Exchange Rate at Wellington Airport - 2023
If you are heading overseas and want to buy currency at Wellington Airport, this guide is for you. We compare the different ways you can buy currency and give you some practical tips to get more out of your money.
Avoid airport exchange kiosks - pick up a prepaid card to save both time and money
Grabbing your foreign currency cash as you pass through the airport may seem like an obvious option - but you'll probably find the exchange rates you get there will include extra fees that are tricky to spot.
Get a prepaid travel card from Wise instead, to spend and make local cash withdrawals in 170+ countries, with the Google exchange rate and no hidden fees. No sneaky charges and no standing in line - meaning you have more time and money to enjoy your trip.
Currency Exchange in Wellington Airport
There are two ways of exchanging money:
1. Buy online and pick it up at the gate
This is by far, the cheapest way to buy currency at the airport. Depending on your currency, you can save up to 10%, compared to the cost of buying it over the counter.
Pre Order Currency & Pick Up at Wellington Airport
How to save money at Wellington Airport
Don't leave it to the last minute
The best exchange rates are either online or outside of Wellington airport. If you are prepared, you can compare exchange rates online or over the phone. Find the best deal and arrange to either buy it in person or online (picking it up later).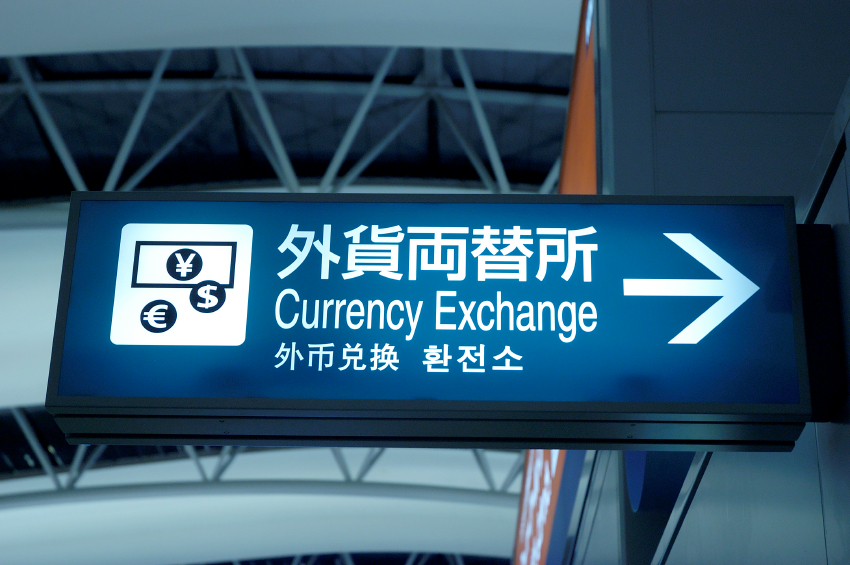 Want to find the best time to buy?
Simply use our free email alerts to track the rate daily. Or set the rate you want and we'll email you when it's time to buy.
FAQ - The Best Places to Exchange Currency in Wellington Airport
Where is the best exchange rate in Wellington Airport?
There's no single best place for currency exchange in Wellington Airport - it'll usually come down to the currency you need, and how much you're exchanging. Generally currency exchange options in airports, train stations and hotels are pretty poor value - with high fees often hidden in bad exchange rates. 
Instead, consider getting a travel card before you head off, to spend and withdraw in Wellington Airport - usually with better exchange rates and more transparent overall costs.
Is it better to exchange money or use a card?
Cards are usually pretty convenient and safer than carrying lots of cash - but many travellers prefer to have both cards and a small amount of cash to hand. When it comes to cost, which is best depends on the exchange rates you can get for your specific currency pair.
If you have a card which doesn't charge a foreign transaction or foreign cash fee you'll usually find that the exchange rates set by card issuers and used when you spend and withdraw are pretty fair. Choose a specialist travel card which offers the Google exchange rate to get even better value.
How much is the fee to exchange currency at the airport?
Currency exchange fees at airports are usually pretty high - although they may also be wrapped up in the exchange rates used, making them harder to spot. In fact you'll often find exchange desks which claim 0% commission, or no conversion fee to pay - but in reality, the charges are just tagged onto the exchange rates applied to your transaction.
Generally you'll get better value if you avoid airport exchange rates and choose a prepaid travel card or multi-currency account to spend and withdraw, instead.
Fees and charges
Travelex don't charge commission over the counter however their exchange rates are considerably worse than outside Wellington airport. Online, they have a 0.8% card fee that Travelex apply to online transactions.
If you are buying currency online, choose to pay through BPAY to avoid the card fee. Please note that if you are going to use this option you need to allow 3-4 business days before your trip to allow time to pick it up in time.
Consider buying your currency abroad
In some cases, it is cheaper to buy your currency in the country you are going to rather than converting it before you leave. Good examples are Bali, Singapore and Australia (depending on where you go). Of course, it is a lot harder to find the best exchange rate when you are outside of New Zealand and you are running a higher risk of being scammed.
As a rule of thumb, the further away you are travelling, the less likely you'll find better exchange rates overseas. This is because the further away from New Zealand you go, the less common New Zealand notes and coins are. As a result, they are also less likely to give you a good exchange rate.